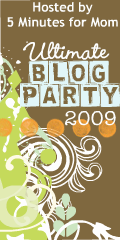 I want to welcome all of the partiers from Ultimate Blog Party '09. I'm Cindy and we have a lot of fun talking about the High School Musical movies and stars. I am a mom, music teacher and drama coach-so my relationship with High School Musical is pretty easy to figure out. I work hard to keep this site fun, clean and not too gossipy. I love receiving comments from my readers and I am honored that so many kids, tweens and teens visit regularly. If you, or someone in your house loves all things HSM please subscribe to my blog and visit often. Leave me a comment and let me know which HSM movie is your favorite.
If you aren't sure what the Ultimate Blog Party is all about and you are over 18 years old click here. If you want to win great prizes and you are over 18 years old click here. I know I'd love to win prize #INTL 27, #INTL 19, #113 or #81. Of course, I'd be happy with any prize for a mom of teens.
Here is a quick HSM tid bit for today…Text ASHLEY to 50505 to get instant updates from Ashley Tisdale. Regular texting charges apply.